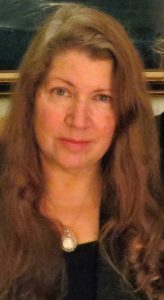 Effective September 2018, our founder, Executive Director and guiding spirit, Andy Spence, is turning over the reins of the organization to Joy Bennett. After an extensive search and evaluation process, Joy was the unanimous choice of the Old Songs Board of Directors and Andy. Andy will continue with as Executive Director Emeritus and advisor to the Board of Directors and to Joy.
Joy has an extensive background in both the world of folk music and the business world. She has a long association with folk music and has attended and supported the last 27 Old Songs Festivals. She served on the Board of the Folk Music Society of New York, Inc., for 20 years, 10 as President, is Co-Director of the Traditional Music and Dance Camp (TradMaD) week held annually at Pinewoods Camp in Plymouth MA in August, and a founding member of and performer with the all-female acapella maritime group The Johnson Girls. Joy has 26 years' experience with the Metropolitan Transportation Authority—NYC Transit, in various positions, culminating with Director of Contracts. She holds a Bachelor of Science in Education from New York University.
Thank you for your continued support as we welcome Joy and continue to benefit from Andy's advice and guidance. We will continue to bring traditional and traditionally-based music to you, our loyal audience and to new generations of participants and listeners.