Since 1977, Old Songs has been dedicated to keeping traditional music and dance alive through the presentation of festivals, concerts, dances, and educational programs. This is only possible through the support of our community and within the extended Old Songs family — staff, volunteers, friends, the audience — all of us, and all of you. Before, during, and coming out of the pandemic, music and dance has been and continues to be an important part of our lives. It sustains, uplifts, surrounds, and reaches us in ways nothing else can, bringing us closer together even when we are apart. (Read more…)
---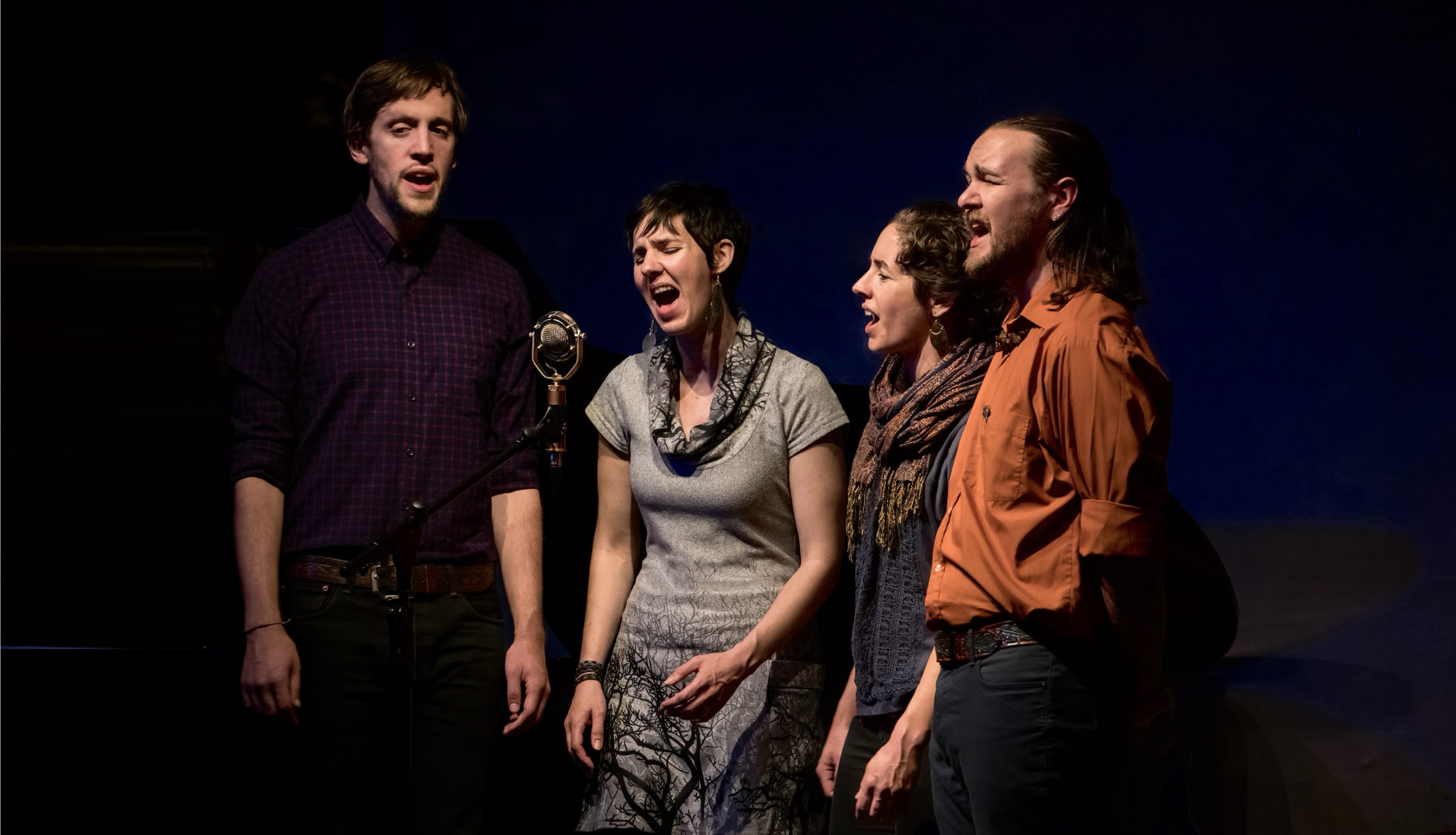 Windborne — Music of Midwinter
Friday, December 8 at 7:30 pm ET
With a 20-year background studying polyphonic music from around the world, Windborne (Lauren Breunig, Jeremy Carter-Gordon, Lynn Rowan, and Will Rowan) shifts effortlessly between drastically different styles of music, drawing their audience along on a journey that spans continents and centuries, illuminating and expanding on the profound power and variation of the human voice. Their artistry is rooted in folk music's longtime alliance with social activism, labor and civil rights, and other movements that champion the oppressed, the poor, and the disenfranchised. However old the songs might be, these folks breathe new life into them.
Buy Tickets:
The concert will be held in person at the Old Songs building (37 S Main in Voorheesville) and live-streamed on the Old Songs YouTube Channel.
---
Encore Broadcast: Sunday, December 17 at 6 pm ET 
Every Third Sunday of the month at 6 pm ET 
with Encore broadcasts at 11 pm ET and the following Wednesday at noon ET
Old Songs, in collaboration with Ron Olesko's Folk Music Notebook, is pleased to present Old Songs: From the Vault, an internet radio program hosted by Chris Koldewey on Folk Music Notebook. This program brings you music from Old Songs CDs and recordings made at the Dutch Barn and the Main Stage of the Old Songs Festival at the Altamont fairgrounds over the past 39 years.
Listen here or at folkmusicnotebook.com
---
MONDAYS
2nd Monday of the Month (Sept. – May)
Bluegrass Jam: 6:30 pm Led by Tom Behan. Recommended $5 donation
3rd Monday of the Month (Sept. – May)
African Drum Class: 7:00 pm African drumming with instructor John Dickson. Drums are provided. $15 class fee

WEDNESDAYS
1st Wednesday of the Month (Sept. – May)
Open Mic: 7:30 pm Sign up to perform 15 minutes. with Kate Blain, MC. $3
2nd Wednesday of the Month (Sept. – May)
Old Time Jam: 7:30 pm Led by the Fearless Fretters. Recommended $5 donation
3rd Wednesday of the Month
Traditional Irish Slow Session: 7:30 pm
Play traditional Irish music with others. Led by Hilary Schrauf. $5 class fee
4th Wednesday of the Month (Sept. – May)
Contra Dance Tunes: 7:30 pm Build your skills and dance tune repertoire. Led by Halsey Brown Recommended $5 donation
SUNDAYS
2nd Sunday of the Month (Oct. – May)
The Pick'n' & Sing'n' Gather'n' (PSG): 1 pm A sing-around for the whole family. pickingandsinging.org
---
The Annual Appeal for Old Songs

Since 1981, Old Songs has been dedicated to keeping traditional music and dance alive through the presentation of festivals, concerts, dances, and educational programs. This is only possible through the support of our community and within the extended Old Songs family — staff, volunteers, friends, the audience — all of us, and all of you. Before, during, and coming out of the pandemic, music and dance has been and continues to be an important part of our lives. It sustains, uplifts, surrounds, and reaches us in ways nothing else can, bringing us closer together even when we are apart. (Read more…)
---

---
 Programming at Old Songs is made possible by the New York State Council on the Arts with the support of the Office of the Governor and the New York State Legislature.