---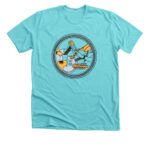 Shirts are available on Bonfire in many different colors and styles.
---
Next Broadcast: Sunday, August 21 at 6 pm ET 
Every Third Sunday of the month at 6 pm ET 
with Encore broadcasts at 11 pm ET and the following Wednesday at noon ET
Old Songs, in collaboration with Ron Olesko's Folk Music Notebook, is pleased to present Old Songs: From the Vault, an internet radio program hosted by Chris Koldewey on Folk Music Notebook. This program brings you music from Old Songs CDs and recordings made at the Dutch Barn and the Main Stage of the Old Songs Festival at the Altamont fairgrounds over the past 39 years.
Listen here or at folkmusicnotebook.com
---
PROOF of VACCINATION and MASKS REQUIRED. Read more…
MONDAYS
3rd Monday of the Month (Oct.–May)
African Drum Class: 7:00 pm African drumming with instructor John Dickson. Drums are provided. $15 class fee

WEDNESDAYS
1st Wednesday of the Month
Open Mic: 7:30 pm Sign up to perform 15 minutes. with Kate Blain, MC. $3
3rd Wednesday of the Month
Traditional Irish Slow Session: 7:30 pm
Play traditional Irish music with others. Led by Hilary Schrauf. $5 class fee
4th Wednesday of the Month (Oct.–May)
Contra Dance Tunes: 7:30 pm Build your skills and dance tune repertoire. Led by Ray Kottke. Recommended $5 donation
---
The Annual Appeal for Old Songs
None of our programs would be possible without the tireless work of the artists, the many volunteers, and your support. Your gift to the Old Songs Annual Fund benefits these programs and enables us to offer you music of emerging artists alongside those long-established artists you have come to love over the years. 
We thank all of you who have provided financial support in the past or given of your time and moral support as a volunteer, and hope you are able once again to support to Old Songs in this or other ways.  Read more…
---

---

Old Songs, Inc. is funded in part by a Humanities New York CARES Grant with support from the National Endowment for the Humanities and the federal CARES Act